Publisher:

Nicalis

Release Date:

Jul 31, 2018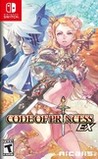 Summary:

Code of Princess EX brings a unique combination of hack-and-slash beat-'em-up action and role-playing depth to Nintendo Switch!

The story follows Princess Solange of DeLuxia as she fights to restore order in a world where monsters are trying to overtake the human race. Armed with theCode of Princess EX brings a unique combination of hack-and-slash beat-'em-up action and role-playing depth to Nintendo Switch!

The story follows Princess Solange of DeLuxia as she fights to restore order in a world where monsters are trying to overtake the human race. Armed with the legendary sword DeLuxcalibur, Solange assembles a team of talented fighters to join her quest. Together, they embark on an epic journey where they will confront the monster uprising and try to discover it's secret origins.

…

Expand
Developer:

Nicalis

Genre(s):

Role-Playing

,

Action RPG

# of players:

No Online Multiplayer

Cheats:

On GameFAQs

Rating:

T
Code of Princess EX is a wonderful remaster of an already great game. The rebalancing of enemies and heros makes it easier to pick up and play and the ability to play on a TV makes the HD graphics really pop. If you had missed this on the 3DS, and are a fan of anime, do yourself a favor and pick this title up.

The humour tries a little too hard at points, but generally speaking, there's a genuinely great spirit to the game, and with the addition of multiplayer, you'd be hard pressed to find a more enjoyable brawler on the Nintendo Switch.

A must play for anyone who is a fan of retro arcade style beat 'em ups, especially if they can appreciate a game that doesn't take itself too seriously. The character and enemy designs are visually interesting and the gameplay mechanics make playing through this tongue-in-cheek adventure enjoyable. The enormous character roster and multiple game modes provide a good value, but the biggest problem lies in the nature of the genre. The gameplay is repetitive even with the different fighting styles of each character, which can get old quickly, especially on single player.

If you're an avid anime fan that likes a bit of kooky comedy-drama with your spammy beatdowns then Code of Princess EX isn't too bad a game to carry around in your backpack. Some will undoubtedly find the story getting a bit too much in the way of the action, and the small moveset for each character really doesn't help to hide its highly repetitive gameplay. It's good to at least see some meat to its combat though, and the character designs are imaginative enough to land some flair to the story.

Code of Princess EX is an entertaining game, which includes some interesting new features, but unfortunately they are not enough for a beat'em up, which although is not bad, does not stand out in any special way beyond the large number of unlockable characters, its RPG feel and being translated. Its story has touches of humor but is very simple, its graphics are still improvable, its control is somewhat crude and the animations are somewhat robotic. Its great asset in this respect is its local multiplayer mode and its online multiplayer, both cooperative and competitive.

The weird thing is that I never felt this huge sense of growth with my characters as they leveled up.

From an aesthetic and button layout perspective, Code of Princess EX is really good. If its story was more layered, its characters were more fleshed out, and you could split the Joy-Con, this would have easily been one of the top games of the year.
It is fun for what it is enjoy it and If you can afford to support the devs good.

Do you like being stun-locked for 20-30 seconds while two enemies hit you for 30+ hit combos? Do you like horrible boss fights (seriously,

Do you like being stun-locked for 20-30 seconds while two enemies hit you for 30+ hit combos? Do you like horrible boss fights (seriously, wrong gear makes bosses impossible, right gear and you end the fight in 10 seconds. What the hell...)? Do you like fighting wave after wave after wave of spongy tanky enemies that don't bother attacking you and just stand there soaking up damage?
I have a lot of positive things to say about the dialog and the humor and the character design, but this is a game, not an anime and if the gameplay is crap than the game is crap.

…

Expand

This is an absolutely atrocious port of the already mediocre 3DS title. The controls are very stiff and often unresponsive and the issues

This is an absolutely atrocious port of the already mediocre 3DS title. The controls are very stiff and often unresponsive and the issues plaguing the 3DS version, such as horrible balancing and ridiculous difficulty spikes and dips, still persist in this version. If you enjoyed the 3DS version, as I did enough to say it's a solid 6/10, this port will not only give you absolutely nothing new, but it will give you control issues on top of that.

…

Expand