| ToeJam & Earl: Back in the Groove | Claybook | Assault Android Cactus+ |
| --- | --- | --- |
| | | |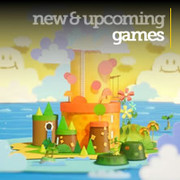 Find release dates, trailers, and scores for major upcoming and recent videogame releases for all platforms, updated weekly.
1.

Baba Is You

Release Date:

March 13, 2019

Baba Is You is a puzzle game in which the rules of the game can be changed during gameplay, leading to surprising and unique interactions. In this tricky puzzler, you don't just make the rules – you are the rules!

2.

Assault Android Cactus+

Release Date:

March 8, 2019

Experience an arcade style twin stick shooter set in a vivid sci fi universe. Junior Constable Cactus is outside her pay grade when she responds to a distress call and ends up stranded on a crippled space freighter under attack by its own robot workers. With a draining battery mechanic instead of lives, Assault Android Cactus+ challenges you to think fast and shoot faster. Charge head first into an army of refitted robots, transforming stages and massive boss showdowns.

3.

Downwell

Release Date:

January 31, 2019

Downwell is a curious game about a young person venturing down a well in search of untold treasures with only his Gunboots for protection. Make your way further and further down into the darkness filled with nasty creatures and mysterious secrets to collect the spectacular red gems scattered about the rocks. Step into precariously placed shops and buy some helpful items or level up between levels to battle well-dwelling monsters and uncover hidden caves filled with riches and relics. No two trips down the well are ever the same.

4.

BlazBlue: Central Fiction - Special Edition

Release Date:

February 7, 2019

BlazBlue: Central Fiction is the newest installment in the storied BlazBlue franchise and stands alone as the pinnacle of next gen 2D fighters! Like a well-timed 2D punch, BlazBlue: Central Fiction bashes massive amounts of content and innovation into one slick title that hits hard and keeps the pummeling steady! Prepare yourself for a brand new story, new characters, levels, modes, system mechanics and more! Choose from over 33 unimaginable fighters as you battle for 2D supremacy!

5.

Steins;Gate Elite

Release Date:

February 19, 2019

Follow a group of young, tech-savvy "lab members" who discover the means of changing the past via e-mail using a modified microwave. Their experiments in pushing the boundaries of time begin to spiral out of control as they become entangled in a conspiracy surrounding SERN, the organization behind the Large Hadron Collider, and John Titor, who claims to be from a dystopian future.

6.

Wargroove

Release Date:

February 1, 2019

Take to the battlefield with Wargroove, a strategy game for up to 4 players. Choose your Commander and wage turn-based war on battling factions. Design and share maps, cut-scenes and campaigns with easy-to-use editors and in-depth customization tools.

7.

Sega Ages: OutRun

Release Date:

January 10, 2019

Brace yourself for the most realistic racing experience yet. And to play, you've got to have what it takes: NERVE, SKILL and BRAINS. NERVE - you're behind the wheel of a supertuned race car with one speed only: fast. SKILL - you're maneuvering a car that can nearly reach a simulated 270 KMH. BRAINS - because you're in control of your car's speed and handling at a dangerous pace, you have to use your head and not just your hands to survive. So get geared for the ride of your life and stay alert. The track may look terrific, but at these speeds anything can turn into a danger zone.

8.

Ape Out

Release Date:

February 28, 2019

Ape Out is a wildly intense and colorfully stylized smash 'em up about primal escape, rhythmic violence, and frenetic jazz.

9.

Tales of Vesperia: Definitive Edition

Release Date:

January 11, 2019

Tales of Vesperia: Definitive Edition celebrates the 10th anniversary of this RPG with new fully playable characters, events and other additional content never released outside of Japan. Follow Yuri Lowell, a former Imperial Knight, as he befriends a colorful cast of characters throughout the world of Terca Lumireis and finds himself in the middle of a nefarious plot that threatens the destruction of the entire planet.

10.

Tetris 99

Release Date:

February 13, 2019

The free to download online software, Tetris® 99, is available as a special offer for Nintendo Switch Online members. In large-scale, 99-player battles, it'll take speed, skill, and strategy to knock out the competition and become the last player standing. You can target opponents by sending them Garbage Blocks, but be careful…your rivals can target you back! Defeat opponents to acquire KO badges that may give you the advantage on future attacks. Survive the onslaught and look forward to upcoming online events.