| Command & Conquer Rivals | Star Trek Fleet Command | Alien: Blackout |
| --- | --- | --- |
| | | |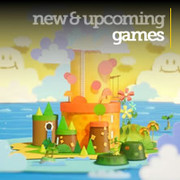 Find release dates, trailers, and scores for major upcoming and recent videogame releases for all platforms, updated weekly.
1.

Star Trek Fleet Command

Release Date:

November 29, 2018

Welcome to the Final Frontier. You have the conn! Summon your skills in strategy, combat, diplomacy, and leadership to master the dangerous universe of Star Trek Fleet Command. Enter a galaxy on the brink of war as Federation, Klingon, and Romulan forces vie for control of the Alpha and Beta quadrants. Discover an ancient secret that could tip the scales of power forever. As the commander of a starbase on the edge of civilized space, you will recruit iconic officers like James T. Kirk, Spock, and Nero - and build powerful ships including the Enterprise, the Romulan Warbird, and Klingon Bird of Prey. Join millions of players - forge alliances, defeat your enemies, and build an epic fleet to secure, or dominate, the galaxy. Explore strange new worlds, seek out new life and new civilizations, boldly go where no one has gone before.

2.

CHUCHEL

Release Date:

November 29, 2018

CHUCHEL is a comedy adventure game from the creators of Machinarium, Botanicula and Samorost. Join the hairy hero Chuchel and his rival Kekel in their quest to retrieve the precious cherry and face numerous puzzles and challenges.

3.

Looney Tunes: World of Mayhem

Release Date:

December 13, 2018

4.

Alien: Blackout

Release Date:

January 24, 2019

The terror of Alien is brought to life in Alien: Blackout. Try to stay alive while trapped aboard a crippled Weyland-Yutani space station carrying a deadly Xenomorph as it tirelessly hunts you and the crew. Outsmart the perfect hunter by making perilous choices. Players must rely on the damaged controls of the space station or risk sacrificing crew members to avoid deadly contact, permanently altering the outcome of the game. Survive seven fear-inducing levels by remotely guiding Amanda Ripley's crew through increasingly challenging tasks using only the station's emergency systems. The uncertainty and unpredictability of both the alien and her crew can impose total defeat for Amanda and the entire station. Alien: Blackout is a unique fear-inducing horror mobile game experience that will test the inner nerves of both Alien and horror fans alike, where life can end in an instant.

5.

Brawl Stars

Release Date:

December 12, 2018

6.

Command & Conquer Rivals

Release Date:

December 4, 2018

Dominate Rival Commanders with Full, Continuous Control of your Army.