Vote in our 9th Annual Emmy Prediction Poll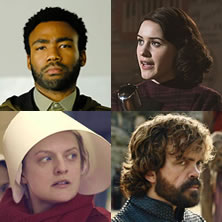 It's once again time to show off your TV knowledge and battle the experts by predicting the winners of the 70th Primetime Emmy Awards. Enter your picks in 25 major categories below. You may make a selection in as many or as few of those categories as you like. (Here's a guide to this year's nominees if you need to study in advance.)
Just before the September 17th ceremony, we'll tally your picks to come up with the consensus predictions in each category. Then, after the awards broadcast, we'll compare the Metacritic user consensus to the selections made by dozens of industry experts to see which group (and individuals) had the most accurate predictions.
Some rules and notes: You may vote only once. Voting will close at 5:00 PT on Saturday, September 8, 2018. We'll reveal your consensus picks (as well as those made by a variety of industry experts) on this site a few days later, just prior to the ceremony.
Voting is now closed. Look for our tally of users' predictions (as well as those of industry experts) later this week.