New trailers and updates for upcoming films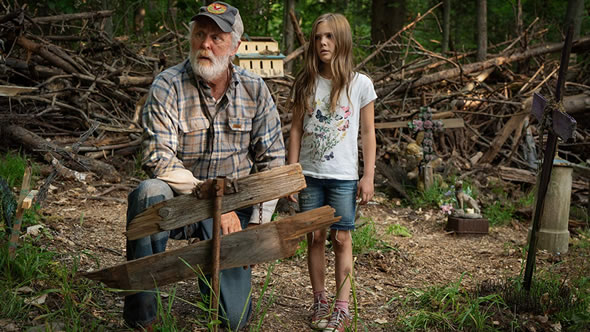 Pet Sematary gets the remake treatment
Starry Eyes directors Kevin Kölsch and Dennis Widmyer are at the helm of this new adaptation of Stephen King's Pet Sematary, which previously hit the big screen in 1989. The new film stars Jason Clarke as Louis Creed, a doctor who moves his wife Rachel (Amy Seimetz) and their two young children from Boston to rural Maine. In the woods near the family home, Louis discovers a mysterious burial ground, and when tragedy leads to horror, he turns to his neighbor, Jud Crandall (John Lithgow) for an explanation. Pet Sematary hits theaters April 5, 2019.
Glass
The end of M. Night Shyamalan's Split revealed it took place in the same universe as his 2000 film Unbreakable. Now, 19 years after that film, comes a sequel to the story of David Dunn (Bruce Willis) and Elijah Price (Samuel L. Jackson), aka Mr. Glass. Bringing the men back together is James McAvoy's Kevin Wendell Crumb, aka The Beast. The new trailer shows Mr. Glass and The Beast teaming up against Dunn. Coming to theaters January 18, 2019, Glass also returns Anya Taylor-Joy as Casey Cooke from Split and adds Sarah Paulson as Dr. Ellie Staple, a superhero denier.
Ben Is Back
Peter Hedges (Pieces of April, Dan in Real Life) directs his son Lucas Hedges in this look at opioid addiction. Taking place over 24 hours, the film focuses on the relationship between Ben and his mother (Julia Roberts) when he returns home unexpectedly on Christmas Eve morning. Ben Is Back received good reviews when it premiered at TIFF in September. Look for it in theaters beginning December 7th.
Aladdin
Guy Ritchie (King Arthur: Legend of the Sword) directs this live-action remake of Disney's animated Aladdin from a script he wrote with John August. There's not much to see in this first teaser, but the May 24, 2019 release stars Will Smith as the Genie; Mena Massoud as Aladdin; Naomi Scott as Princess Jasmine; Marwan Kenzari as the sorcerer Jafar; Navid Negahban as the Sultan; Nasim Pedrad as Dalia, Princess Jasmine's best friend; Billy Magnussen as Prince Anders; and Numan Acar as Hakim, Jafar's right-hand man.
The Best of Enemies
Based on Osha Gray Davidson's nonfiction book The Best of Enemies: Race and Redemption in the New South, this April 5, 2019 release centers on the unlikely relationship between civil rights activist Ann Atwater (Taraji P. Henson) and C.P. Ellis (Sam Rockwell ), a Ku Klux Klan leader in 1971 Durham, North Carolina. Focusing on the battle for school desegregation, The Best of Enemies, the debut feature for writer-director Robin Bissell, features Anne Heche, Wes Bentley, Bruce McGill, John Gallagher Jr., and Nick Searcy in supporting roles.
Shoplifters
The winner of this year's Palme d'Or at Cannes comes to select U.S. theaters on November 23rd. It is another family-centered drama (with a twist) from director Hirokazu Kore-eda (After the Storm, Like Father, Like Son, Our Little Sister). The film focuses on a poor family who take in a young girl, bringing them unwanted attention.
Mortal Engines
Visual-effects artist Christian Rivers (King Kong) makes his directorial debut with this adaptation of Philip Reeve's award-winning book series set hundreds of years after civilization was destroyed and humanity developed gigantic moving cities. Based on the first novel in the series, Mortal Engines follows Hester Shaw (Hera Hilmar), Anna Fang (Jihae), and Tom Natsworthy (Robert Sheehan) as they forge an unlikely alliance to take on Hugo Weaving's Thaddeus Valentine. This December 14 release is produced by Peter Jackson.
Two coming to Netflix
Kurt Russell stars as Santa Claus in The Christmas Chronicles, the story of Kate (Darby Camp) and Teddy Pierce (Judah Lewis), who plan to catch Santa Claus on camera when he comes by their house. But Santa has other plans as their Christmas Eve journey results in them working together to save Christmas. Find it on Netflix beginning November 22nd.
Coming to Netflix on October 19th, The Night Comes for Us stars Joe Taslim as Ito, a former Triad enforcer, who tries to protect a young girl after his mysterious disappearance sets off a violent battle on the streets of Jakarta.
Here and Now
Originally titled Blue Night when it premiered at the Tribeca Film Festival earlier this year, Here and Now spends 24 hours with jazz singer Vivienne Carala (Sarah Jessica Parker) as she copes with the news of having a terminal illness. Fabien Constant's debut narrative feature has earned a mixed reactions from critics. Look for it in select theaters and VOD beginning November 9th.
Bodied
Bodied premiered at the 2017 Toronto International Film Festival to good reviews and has made appearances at several other festivals since. Set in Oakland's underground rap battle scene, the film follows a grad student (Calum Worthy of American Vandal) as he becomes addicted to rhyming. With Jackie Long, Rory Uphold, Dumbfoundead, Walter Perez, Shoniqua Shandai, Charlamagne tha God, Dizaster, Hollow da Don, Debra Wilson, and Anthony Michael Hall, the debut feature of music video director Joseph Khan hits theaters November 2nd and YouTube Premium November 28th.
Clara's Ghost
Writer-director-star Bridey Elliot directs her father (Chris Elliott), mother (Paula Niedert Elliott) and sister (Abby Elliott) in her feature debut, a dark comedy about a once-famous family and the matriarch who stayed out of the limelight. Set over a single evening, Clara's Ghost received good reviews when it premiered at Sundance in January. Look for it in select theaters December 6th and on VOD December 7th.
Short takes
Mobile Homes stars Imogen Poots as a young mother struggling for a better life for herself and her 8-year-old son. Look for it in select theaters November 16th.
Coming to theaters and VOD on November 16th, Welcome Home stars Aaron Paul and Emily Ratajkowski as a couple whose Italian vacation doesn't help their rocky relationship.
On Her Shoulders chronicles 23-year-old Nadia Murad's fight to bring awareness to the 2014 genocide of the Yazidis in Northern Iraq—efforts that recently earned her the Nobel Peace Prize. Find it in select theaters beginning October 19.
News and notes