New trailers and updates for upcoming films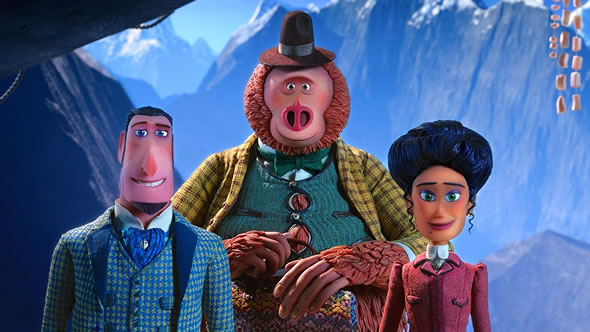 Up next for Laika: Missing Link
The latest release from the stop-motion animators at Laika (Kubo and the Two Strings, The Boxtrolls, Coraline) tells the story of Mr. Link, a well-spoken, fur-covered creature (voiced by Zach Galifianakis) who stands 8 feet tall and weighs 630 lbs. Hoping to find his family, Mr. Link enlists the famous, fearless explorer Sir Lionel Frost (Hugh Jackman) and adventurer Adelina Fortnight (Zoe Saldana) in a journey that takes them to the far reaches of the world. Missing Link, directed by Chris Butler (ParaNorman), hits theaters April 12, 2019.
Andy Serkis' Jungle Book project is finally ready to go
Breathe, the first feature directorial effort from Andy Serkis, did not impress critics, but his new effort, Mowgli: Legend of the Jungle, finds him in more familiar territory, blending live-action and performance capture for a new (and less family-friendly) take on Rudyard Kipling's The Jungle Book. Coming to a few theaters on November 29th before streaming on Netflix starting December 7th, the film follows Mowgli (Rohan Chand) as he is raised by wolves and learns the ways of the jungle from Baloo (Serkis) the bear and a panther named Bagheera (Christian Bale). As a new danger threatens the jungles of India, Mowgli encounters his human origins and must choose a side.
Another look at Rupert Wyatt's Captive State
Captive State explores life in Chicago after a decade-long alien occupation. Directed by Rupert Wyatt (Rise of the Planet of the Apes, The Gambler) from a script he wrote with Erica Beeney, the March 29, 2019 release stars John Goodman, Vera Farmiga, Ashton Sanders, Madeline Brewer, James Ransone, and Alan Ruck.
The Secret Life of Pets, now with less Louis C.K.
The Secret Life of Pets 2 continues the adventures of Max and his pals Duke, Snowball, Chloe, and Pops. Chris Renaud returns to direct this sequel to 2016's The Secret Life of Pets, but Patton Oswalt has replaced Louis C.K. as the voice of Max. The rest of the voice cast for the June 7, 2019 release includes Eric Stonestreet, Kevin Hart, Lake Bell, Dana Carvey, Jenny Slate, and Albert Brooks, Hannibal Buress, Bobby Moynihan and newcomers Tiffany Haddish, Nick Kroll, Pete Holmes, and Harrison Ford.
Ugly Dolls
Based on the plush toy line, UglyDolls follows Moxy (Kelly Clarkson) and her UglyDoll friends as they leave Uglyville and discover another world: Perfection. There, Lou (Nick Jonas), the perfect doll in charge, trains recruits to be sent to the "real" world to find the love of a child. Directed by Kelly Asbury (Smurfs: The Lost Village), the May 10, 2019 release features the voices of Janelle Monáe, Blake Shelton, Pitbull, Wanda Sykes, Emma Roberts, Gabriel Iglesias, and Charli XCX.
One last preview of the Coens' Ballad of Buster Scruggs
Coming to theaters today and Netflix next Friday, the latest from Joel and Ethan Coen is a six-part anthology film set in the American West. Originally announced as a television series before being re-edited into a feature, the film received the best screenplay award at the Venice Film Festival. The impressive cast of The Ballad of Buster Scruggs includes Tim Blake Nelson, Tom Waits, Zoe Kazan, James Franco, Liam Neeson, Brendan Gleeson, Tyne Daly, and Stephen Root.
Capernaum
Actor-writer-director Nadine Labaki's third film, following Where Do We Go Now? and Caramel, tells the story of Zain (Zain al Rafeea), a Lebanese boy who sues his parents for giving him life. Capernaum won the Jury Prize at this year's Cannes Film Festival and is Lebanon's submission for the Best Foreign Language Film Oscar. Look for it in select theaters beginning December 14th.
Maine
In Maine, a married Spanish woman (Laia Costa) attempts to hike the entire Appalachian Trail solo, but her search for solitude is interrupted by the bond she forms with an American hiker (Thomas Mann). The film, written and directed by Matthew Brown, hits theaters and VOD on December 14th.
The Princess Switch
Coming to Netflix on November 16, The Princess Switch stars Vanessa Hudgens as Chicago baker Stacy and as Margaret, the Duchess of Montenaro. This latest attempt by Netflix to capture the Hallmark Christmas magic finds Stacy and Margaret switching places, leading to Stacy falling for a Prince and Margaret for Stacy's co-worker.
Short takes
In Astral, a university student uses astral projection to connect to his dead mother, resulting in some major complications. Look for it in select theaters and on VOD beginning November 23rd.
Divide and Conquer: The Story of Roger Ailes profiles the rise and fall of the Fox News mogul. See it in theaters and On Demand beginning December 7th.
News and notes