New trailers and updates for upcoming films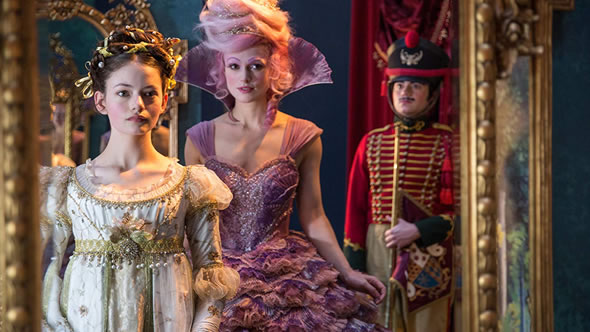 The Nutcracker and the Four Realms
Inspired by E.T.A. Hoffmann's classic tale The Nutcracker and the Mouse King, The Nutcracker and the Four Realms stars Mackenzie Foy (Interstellar) as Clara, a young girl who unlocks a magical world created by her mother with a special key provided by her godfather Drosselmeyer (Morgan Freeman). The Four Realms of the title are the Land of Snowflakes, Land of Flowers, Land of Sweets, and a fourth realm ruled by the evil Mother Ginger (Helen Mirren). Keira Knightley stars as the Sugar Plum Fairy, and Misty Copeland plays The Ballerina. Directors Lasse Hallstrom and Joe Johnston will share credit on the November 2 release after Johnson stepped in to helm extensive reshoots.
47 Meters Down: The Next Chapter
Capitalizing on the release of The Meg, Entertainment Studios has released a teaser for the sequel to their biggest hit, 47 Meters Down. Previously titled 48 Meters Down but now called 47 Meters Down: The Next Chapter, the new film follows five backpackers in Brazil as they go on a dive in the ruins of an underwater city. The original's team of director and co-writer Johannes Roberts and writer Ernest Riera return for this summer 2019 release.
The Kindergarten Teacher
Little Accidents writer-director Sara Colangelo's second feature is a remake of Nadav Lapid's award-winning Israeli feature The Kindergarten Teacher. At this year's Sundance Film Festival, Maggie Gyllenhaal received praise for her performance as a teacher who takes a little too much interest in one of her young students when he shows a surprising skill with poetry. The Kindergarten Teacher streams on Netflix on October 12th.
Bel Canto
Based on Ann Patchett's best-selling novel, this September 14 release stars Julianne Moore as a famous soprano who finds herself in a hostage situation, caught between a military dictatorship and a group of rebels demanding the release of their imprisoned comrades. Directed by Paul Weitz (Grandma) from a script he wrote with Anthony Weintraub, Bel Canto stars Ken Watanabe, Sebastian Koch, Christopher Lambert, and Eddie Martinez.
Fahrenheit 11/9
Michael Moore (Where to Invade Next) is back with his particular brand of documentary, and this time he's taking on Donald Trump. Playing off the title of his Palme d'Or-winning documentary Fahrenheit 9/11, a look at the presidency of George W. Bush, Fahrenheit 11/9 investigates what precipitated the 2016 election and the fallout since. The September 21 release will premiere at the Toronto International Film Festival.
The After Party
Coming to Netflix on August 24th, The After Party follows an aspiring rapper (Kyle Harvey) as he tries to break into the rap game after becoming internet famous for puking on Wiz Khalifa. His friend/manager (Harrison Holzer) convinces him that all they need to do is get into the biggest after party ever, resulting in a night full hijinks and cameos by French Montana, DJ Khaled, Desiigner, Pusha T, and others. Ian Edelman (Puerto Ricans in Paris) writes and directs, and the supporting cast includes Shelley Hennig, Teyana Taylor, Amin Joseph, Andy Buckley, and Blair Underwood.
Sunset
László Nemes' follow-up to Son of Saul, the winner of the Oscar for Best Foreign Language Film, is set in 1913 Budapest, where Irisz Leiter (Juli Jakab) arrives hoping to work at the hat store owned by her late parents. When she is turned away, she refuses to leave the city, setting her on a quest as civilization begins to crumble. Sunset will premiere in Venice where it will play in the main competition before also screening at TIFF.
Short takes
Qasim Basir's A Boy. A Girl. A Dream. spends a night with Cass (Omari Hardwick) and Free (Meagan Good) on the eve of the 2016 election. Look for it in select theaters beginning September 14th.
Rob Stewart's posthumous documentary Sharkwater Extinction continues his battle against the shark finning industry. The film will premiere at TIFF before opening in theaters on October 5th.
The dark comedy Danger One follows two paramedics (Tom Everett Scott and James Jurdi) as they find a million dollars on the body of the man they failed to save. Find it in select theaters and on demand beginning September 14th.
News and notes