New trailers and updates for upcoming films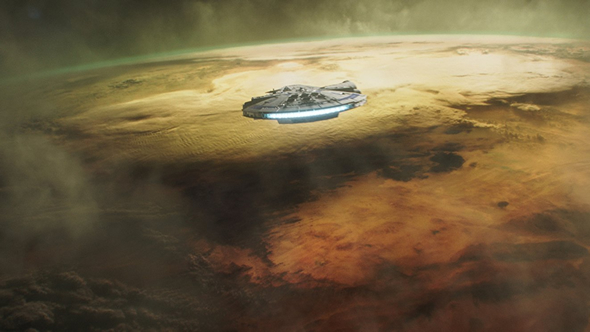 Going Solo
After a troubled production, which resulted in Ron Howard taking over directing duties from Phil Lord and Christopher Miller, Solo: A Star Wars Story will hit theaters on May 25th. The film follows Han Solo (Alden Ehrenreich) as he enters the criminal underworld, meets Chewbacca, gambles with Lando Calrissian (Donald Glover) and gets involved with a gang led by Woody Harrelson's Tobias Beckett. Emilia Clarke, Paul Bettany, and Thandie Newton also star, and Phoebe Waller-Bridge provides the voice of L3-37.
That's Incredibles
Brad Bird's sequel to The Incredibles picks up immediately after the end of the first film. The Parr family (Bob, Helen, Violet, Dash, and Jack-Jack) must deal with The Underminer, but they face a bigger challenge when Helen/Elastigirl goes off to save the world, leaving Bob/Mr. Incredible in charge of the family. Samuel L. Jackson returns as Lucius Best/Frozone, and Bob Odenkirk joins the voice cast as Winston Deavor, a tycoon who wants to bring superheroes back. Incredibles 2 opens on June 15th.
Ocean's 8 is obviously the title of the 4th (or 5th) Ocean's film
Sandra Bullock plays Debbie Ocean, Danny Ocean's sister, in Ocean's 8, a spin-off of Stephen Soderbergh's successful Ocean's franchise. Like those films, this June 8 release revolves around a heist. Bullock puts together a crew of Cate Blanchett, Mindy Kaling, Sarah Paulson, Helena Bonham Carter, Awkwafina, and Rihanna to steal diamonds at the Met Gala. Anne Hathaway, Richard Armitage and James Corden also star.
Statham v. Shark
Jason Statham battles a giant shark in The Meg. Directed by Jon Turteltaub (Last Vegas), the August 10 release follows Statham's Jonas Taylor as he's hired to save the crew of a deep-sea submersible disabled at the bottom of the ocean after an attack by a 75-foot-long shark known as the Megalodon. Statham teams up with Li Bingbing's Suyin, Chris Curtis, Ruby Rose, and Rainn Wilson to save the day.
Three Sundance films get summer releases
Here are the first trailers for three films that premiered at the Sundance Film Festival earlier this year.
Bart Layton's debut narrative feature American Animals dramatizes the "Transy Book Heist" of 2004, when four Kentucky college students attempted to steal millions of dollars in rare books. The film still retains some of the documentary flourishes from the director's award-winning The Imposter. Layton casts Evan Peters, Barry Keoghan, Blake Jenner, Jared Abrahamson to play the college kids, but he also has their real-life counterparts appear with them and comment on their actions. The film opens June 1st.
Hearts Beat Loud is writer-director Brett Haley's third feature to debut at Sundance, following I'll See You in My Dreams and The Hero. The June 8 release is an affectionate look at the relationship between single dad Frank (Nick Offerman) and his daughter Sam (Kiersey Clemons), who's heading off to college. Connecting through their shared love of music, they form a band and write a song that becomes a minor Spotify hit. The strong supporting cast includes Ted Danson, Toni Collette, Sasha Lane, and Blythe Danner.
In 1980, three strangers—Bobby Shafran, Eddy Galland, and David Kellman—discovered that they were identical triplets separated at birth. Their tale makes them momentarily famous, but Tim Wardle's documentary reveals the tragedy behind their joyful reunion. Three Identical Strangers comes to select theaters June 29th.
Get ready for some Hot Summer Nights
In writer-director Elijah Bynum's debut feature, Timothée Chalamet stars as Daniel, a teenager who gets entangled in a drug ring in Cape Cod, Massachusetts during the summer of 1991. With a strong supporting cast consisting of Maika Monroe, Alex Roe, Thomas Jane, William Fichtner, Emory Cohen, and Maia Mitchell, Hot Summer Nights debuted at the 2017 SXSW Film Festival to mixed reviews. Look for it in select theaters beginning July 27th.
Short takes
James Franco goes Mad Max in Future World with Milla Jovovich, Lucy Liu, and Suki Waterhouse. Look for it in theaters and on VOD beginning May 25th (yes, the same day as Solo: A Star Wars Story).
Coming to Netflix on 4/20, Dude follows four friends (Lucy Hale, Alexandra Shipp, Kathryn Prescott and Awkwafina) during their smoke-filled final weeks in high school.
Mercury 13 tells the true story of the 13 women who went through NASA's Mercury astronaut testing program in 1961. Find it on Netflix beginning April 20th.
Jim Carrey plays a police detective tracking a famous writer (Marton Csokas) and his girlfriend (Charlotte Gainsbourg) in Dark Crimes. See it on DirecTV beginning April 19th and in theaters and On Demand May 18th.
News and notes